Hello Upper East Siders
Due to the current lack of Gossip Girl in our lives, I think we all need some spice to begin our summer with. As you all know, the season two finale, was extraordinary. Leaving us wanting more. So to cure your Gossip Girl Blues, I think it's discussion time. From that gorgeous "motherchucker" to serena's um, interesting outfit choices, to Blair's queenly ways, this summer will be incredible.
1.) I'm Chuck Bass. How is it that those three words put millions of girls in hysteria? I'm not going to lie, I'm definitely one of those girls. But what is it about that motherchucking basstard that makes us tick? I mean he definitely isn't the most attractive male on the show. I believe that award goes to Nate. But what makes girls go totally ga ga for him? Well for me, it's that irresistable charm. The bad boy persona that makes me want to rip his clothes off. Is it the fact that he can put on clothes that no straight man would be caught dead in, and still look totally badass. I have my reasons for loving Chuck. But what are some of yours? And if you don't love Chuck… well is that even possible?
2.) Blue Dress Catastrophe. We all saw it on the finale, but really Serena, WHAT WERE YOU THINKING? I've always known Serena had great style. But way to go out with a bang S (definitely not a good bang) in that hideous blue maxi dress for graduation. Really S, do you want your high school classmates to remember you in that hideous bed sheet you wrapped around yourself.  Maybe it's just me, but I couldn't stand that dress, anybody else?
3.) Blair Cornelia Waldorf. How can this name tell you so much about this girl. Such a classy and elegant name, true to the actual character. She is our queen. And hate her or love her, she's the girl we all want to be. Through her ups and downs, she always comes out on top, and that's what we love about our Queen Bee. But will she still be able to rock it at NYU? Especially with Georgina around? Oh who are we kidding? It's Blair after all. She always ends up on top. And just because she's at NYU, doesn't mean anythings going to change…. or will it?
4.) Gossip Girl. Ever wonder why the title of the show, is an anonymous person? The question we've all been dying to hear the answer to: WHO IS SHE!? Nate, Serena, Blair, and Chuck narrowed it down to a person the same age as them, who attends Constance Billard, and a female (we think?). But do you guys have any ideas? We know it's Kristin Bell, in the series. But what character is Gossip Girl? Is Gossip Girl even a main character? Hmmmm.. any ideas?
P.S. Just a random fact. Did anyone know that Penn Badgley (our beloved Dan Humphrey) was the "other tucker" in John Tucker Must Die. I was SHOCKED to find that out. I'm SO glad he cut his hair for Gossip Girl.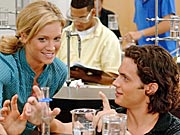 xoxo
-Chandini
Filed under: News