Who's your Gossip guy?
Author: Rina
Filed under: News
Thursday
Jun 18,2009
Gossip girl here…
Wanna find out who's your gossip guy…check this out!
What do you look in a guy?
a) Looks
b) Personality
c) Reputation
what kind of guys do you like?
a) A romantic
b) A good mate
c) A daredevil
where is your dream date?
a) At a restraunt
b) At a soccer game
c) A party
Do you prefer guys who make the first move?
a) Sometimes
b) No
c) Yes
what kind of relationship can't you be in most?
a) A guy who misses their ex
b) Lying to each other
c) He flirts with other girls
He's a guy you'd:
a) date
b) Have a relationship
c) have a fling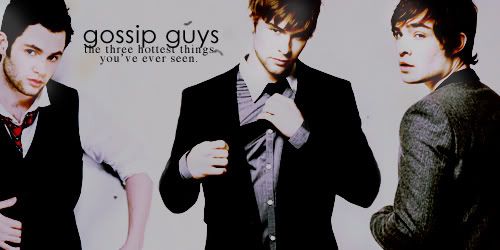 Mostly a's- Nate Archibald
You love a romantic guy, which everyone will die for! But when his ex is involed its tricky business….he's your perfect prince charming!
Mostly B's- dan Humphrey
The respect he has for you just melts your heart,  because he's not well known, girls can't dribble all over him….so you can have him for yourself!
Mostly C's- Chuck bass
He's a guy hard to get because he's a womanizer and straightforward too…he likes to have a laugh and deep down he cares!
you know you love me…
xoxo
Filed under: News